Strengthening of the banke GmbH team
Technical Management by Julian Cuperus
The banke team has received powerful support with Dipl.-Ing. Julian Cuperus as of 1.7.2021!
Julian Cuperus leads the engineering team at banke as technical manager.  Cuperus brings with him many years of experience in engineering and manufacturing in brewery plant engineering. With his qualification as a welding engineer, he will establish cost-efficient manufacturing for process components and frame units at banke.
After leaving BrauKon GmbH as a shareholder, Friedrich Banke is starting out with "banke GmbH" with a new strategic orientation. The multiply patented "banke" technologies are established in numerous international projects worldwide.
With its team of 15 employees, banke will focus on providing engineering services and solutions for the beverage and food industries as well as bioprocess technology. The focus will be on the sale of process solutions and the provision of extensive know-how.
LoopulEX system for up to 3,500 kg of pellets goes into operation in USA

With a batch size of up to 3,500 kg of hop pellets, the 2nd banke LoopulEX system starts up in Milwaukee (USA).

The dry hopping process with particle retention takes place within only 24 hours.

Up to 1,000 kg can be fed into the hop dissolving system and refilled fully automatically, thus enabling a continuous dry hopping process.

The fully automatic system was integrated into two target tanks, each with a capacity of 6,450 hl.

The LoopulEX system thus sets new standards for dry hopping in terms of size and efficiency.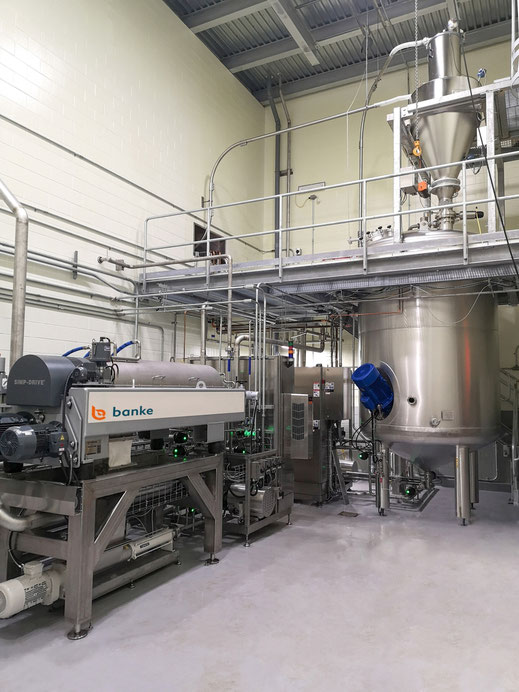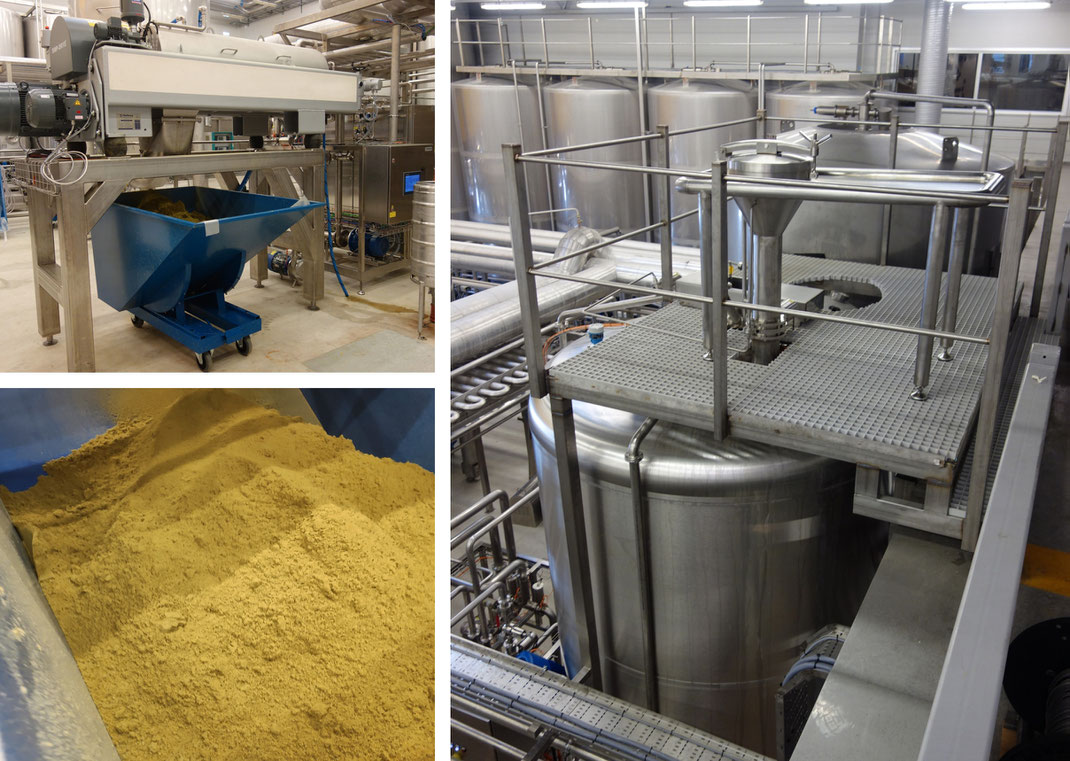 First LoopulEX system starts operation in Norway

At the Norwegian Hansa Borg Brewery in Bergen (Norway), the first LoopulEX system successfully goes into operation. Up to 1,000 kg can be processed per batch. The system is integrated into the existing tank cellar, with flexible use of tanks in various sizes up to 1400 hl.

We would like to thank the Hansa Borg Brewery for their confidence in our new technology.

Banke process solutions GmbH & Co KG becomes banke GmbH
On 01.01.2021, Banke GmbH & Co becomes banke GmbH with a new corporate design.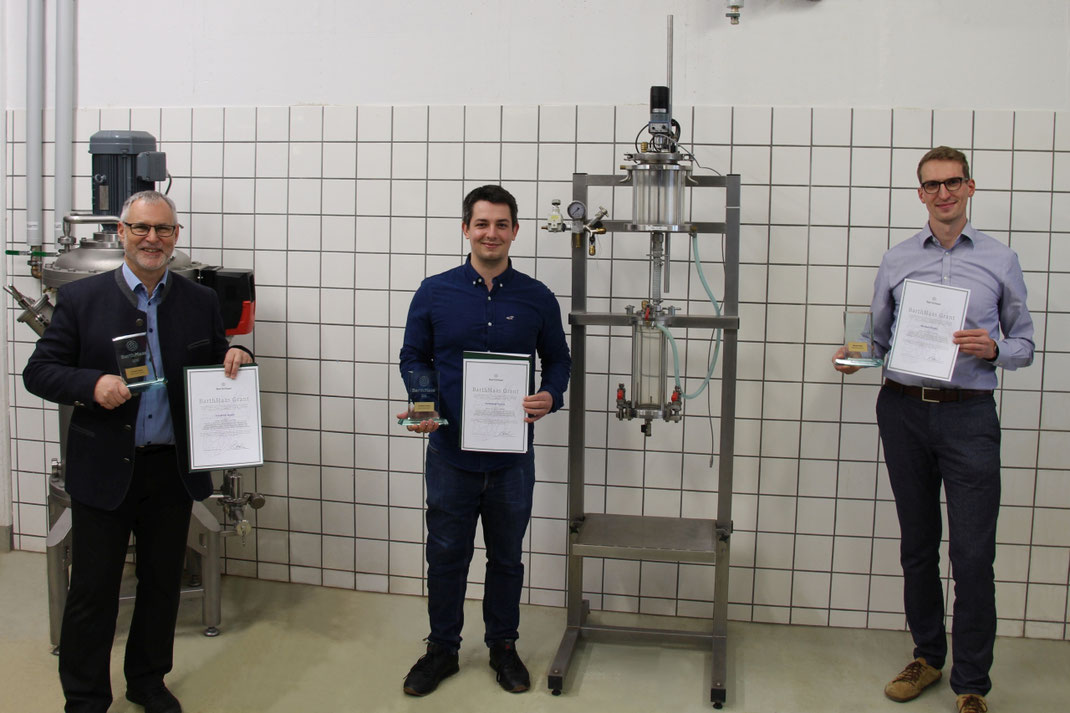 Happy winners of the BarthHaas Grant in the Banke process solutions pilot plant
f.l.t.r. Friedrich Banke, Ferdinand Gutsch and Michael Kohles
BarthHaas Grant for research by Banke process solutions

For the research work comparing the newly developed External Dry Hopping System "LoopulEX" with classical dynamic dry hopping, the BarthHaas Grant was awarded by Stephan J. Barth and Dr. Christina Schönberger for the first time in a web conference on 12.11.2020.

The thesis showed that the LoopulEX method can achieve the same analytical and sensory results as previously established technologies. With considerable savings of beer losses, short process time and without introducing hop particles into the fermentation and storage cellar.

Involved in the work were Prof. Dr. Fritz Jacob and Dr. Martin Zarnkow from the Weihenstephan Research Center for Brewing and Food Quality BLQ, Dr. Nils Rettberg from the Research Institute for Beer and Beverage Analysis (FIBGA) of VLB Berlin, Dr. Christina Schönberger and Roland Novi of BarthHaas GmbH & Co KG. Ferdinand Gutsch, future project manager at BANKE process solutions, wrote his master's thesis within the framework of this research project, building on previous work by Michael Kohles.

Many thanks to the whole team for these valuable new findings and especially to BarthHaas for the support and appreciation through the award ceremony.
Restructuring of Banke process solutions & BrauKon

The two companies BrauKon and BANKE process solutions will in future strengthen their position as complete suppliers of brewery plants and modernizations.

In the course of the reorganization, the structures of the companies, which have been closely linked in the past, will be separated so that BrauKon can focus more intensively on its strengths as a complete supplier of breweries. This restructuring secures the independence of both companies and increases the depth of added value at BrauKon.

The proven technologies will thus continue to be available through the established distribution channels. The core competencies of BrauKon continue to include the planning, design and production of complete breweries and partial plants.
At the same time BANKE process solutions offers individual process solutions and optimizations as a competence center for special plant engineering and modernizations. As an established specialist for hop technologies, BANKE process solutions intends to concentrate especially on large-scale plants.

With effect from August 7, Friedrich Banke will leave BrauKon by mutual agreement and at his own request as partner and head of development. With this departure, structures have been simplified for both companies and the way has been paved for a prosperous future for both sides.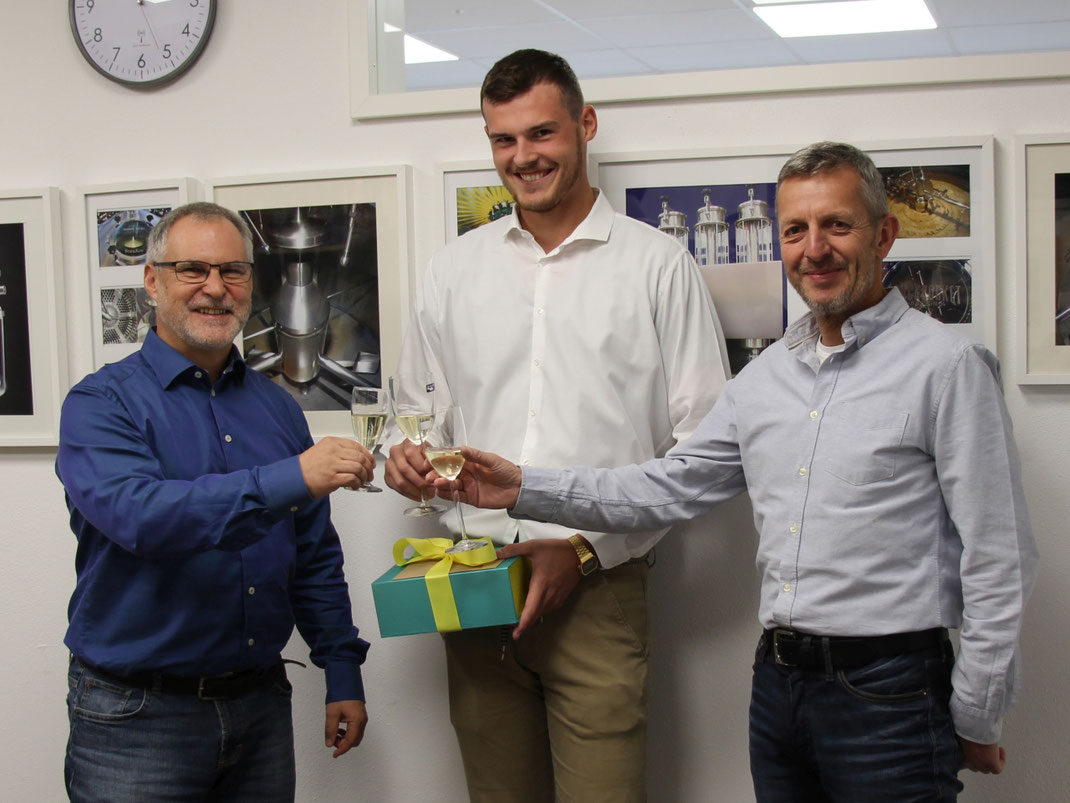 Banke process solutions toasts Jonas Piehl to the successful completion of his apprenticeship to technical product designer for machine and plant construction and wishes everything
Good for the future.

Jonas Piehl was taken over as Technical Product Designer..
f.l.t.r. Friedrich Banke, Jonas Piehl, Johann Schmidt (Instructor and construction)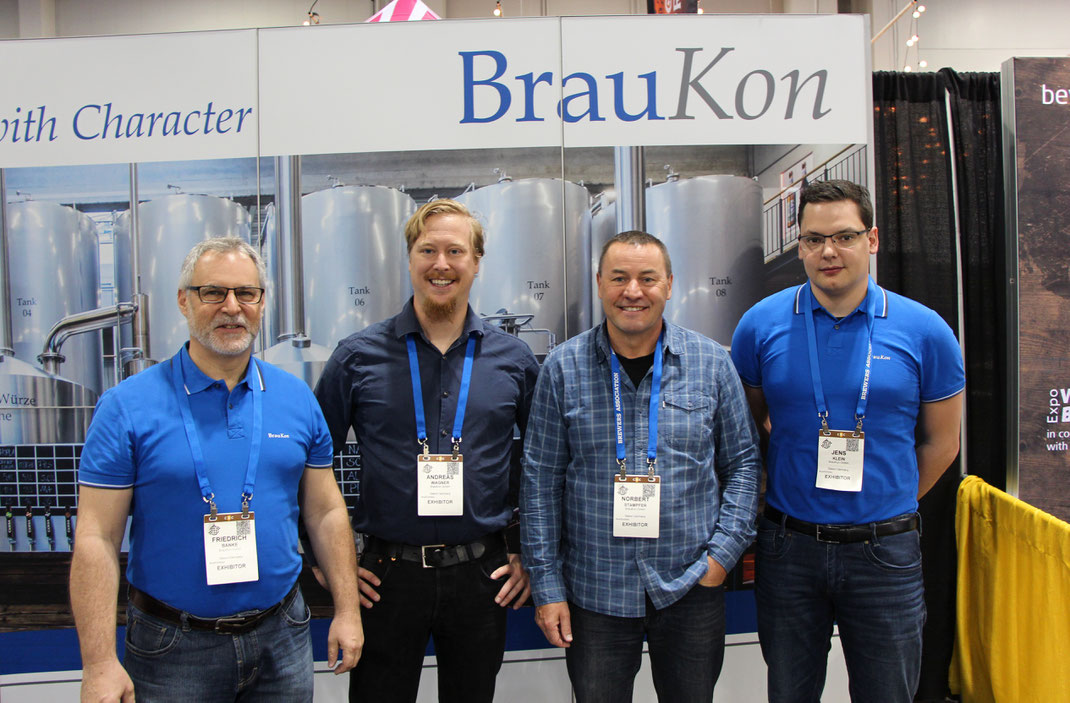 (v.l.) Friedrich Banke, Andreas Wagner, Norbert Stampfer, Jens Klein

Craft Brewers Conference 2019
Friedrich Banke zusammen mit der BrauKon auf der CBC
08.04.2019 - 11.04.2019 in Denver
Die Staatspreisträger 2019 der Berufsschule Wasserburg  ©Landratsamt Rosenheim

Staatspreisverleihung 2019
Banke process solutions gratuliert dem ehem. Auszubildenden Lars Boettger zum Erhalt des bayrischen Staatspreis für seinen Berufsschulabschluss.
Am 29.03.2019 in Wasserburg.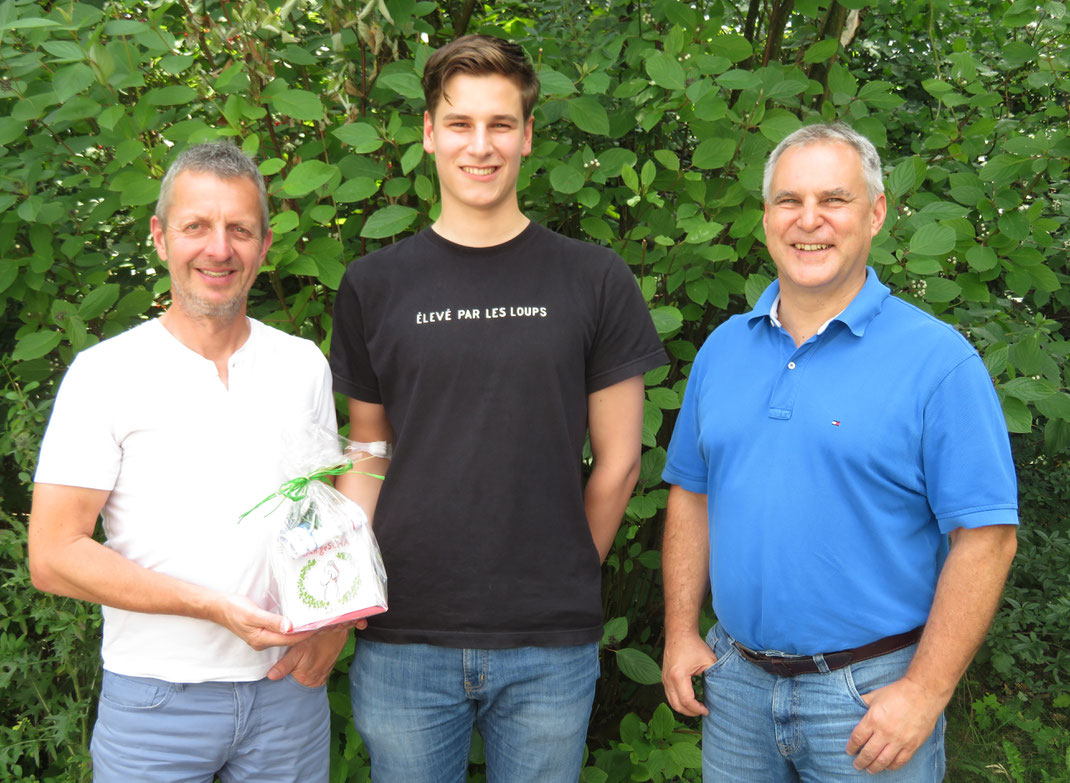 Lars Boettger mit Ausbilder Johann Schmidt und Geschäftsführer Friedrich Banke

Abschluss 2018
Banke process solutions gratuliert Lars Boettger zum erfolgreichem Abschluß der Ausbildung
zum Technischen Produktdesigner für Maschinen und Anlagenkonstruktion und wünscht alles
Gute für die Zukunft.
Lars Boettger wurde zum 26.06.2018 als Technischer Produktdesigner übernommen.
(v.l.) Jens Klein, Markus Lohner and Friedrich Banke

Craft Brewers Conference 2017
Friedrich Banke together with BrauKonat the CBC
10.04.2017 - 13.04.2017 in Washington D.C.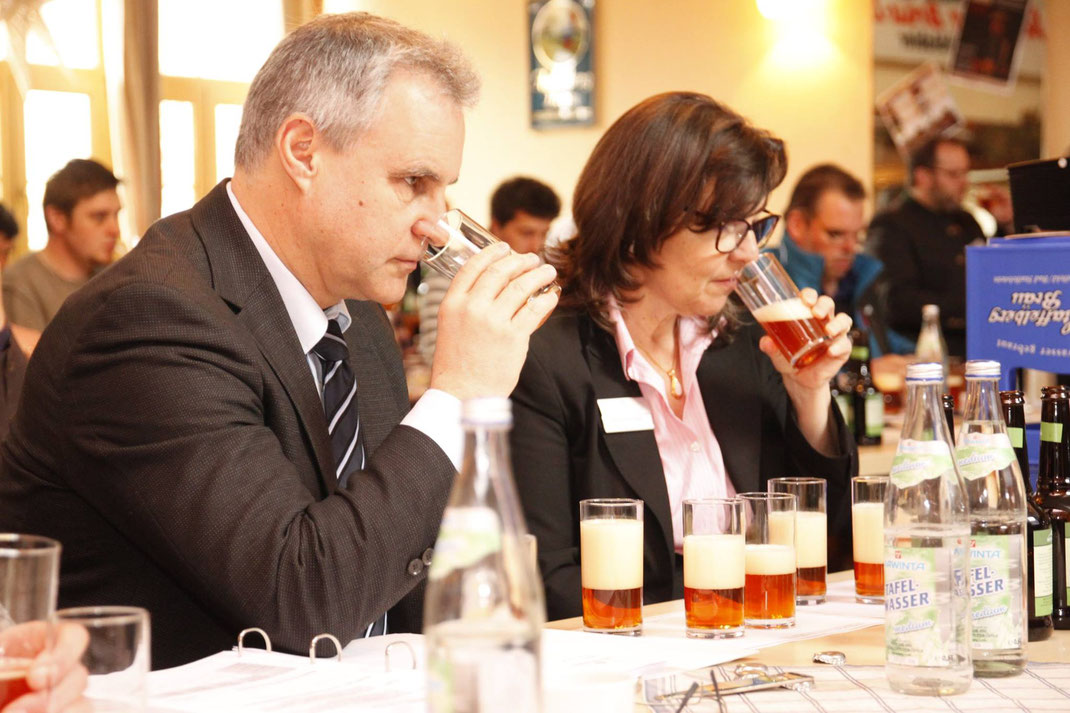 (Quelle: Facebook.de/Brauwelt)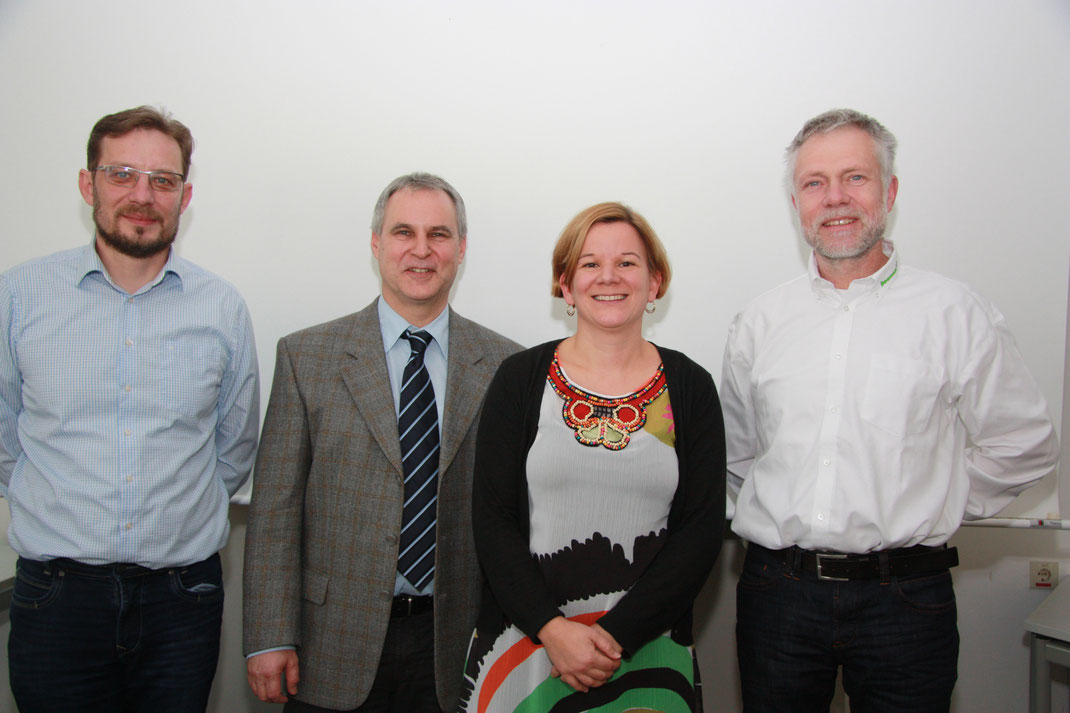 (Quelle: Doemens)
Referenden: (v.l.)
Björn Bleier (Doemens), Friedrich Banke, Dr. Christina Schönberger (Joh. Barth & Sohn GmbH & Co.kG), Winfried Sahlmann (Doemens)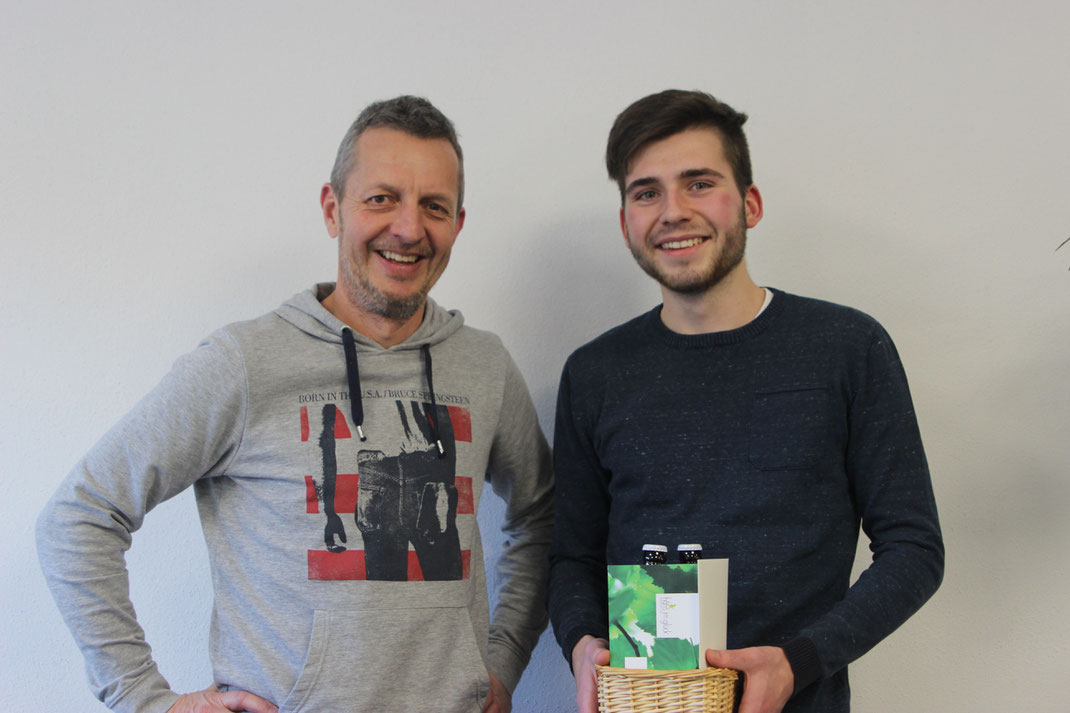 Michael Barkow mit Ausbilder Johann Schmidt
Abschluss 2017
Banke process solutions gratuliert Michael Barkow zum erfolgreichem Abschluß der Ausbildung
zum Technischen Produktdesigner für Maschinen und Anlagenkonstruktion und wünscht alles
Gute für die Zukunft.
Michael Barkow wurde zum 24.01.2017 als Technischer Produktdesigner übernommen.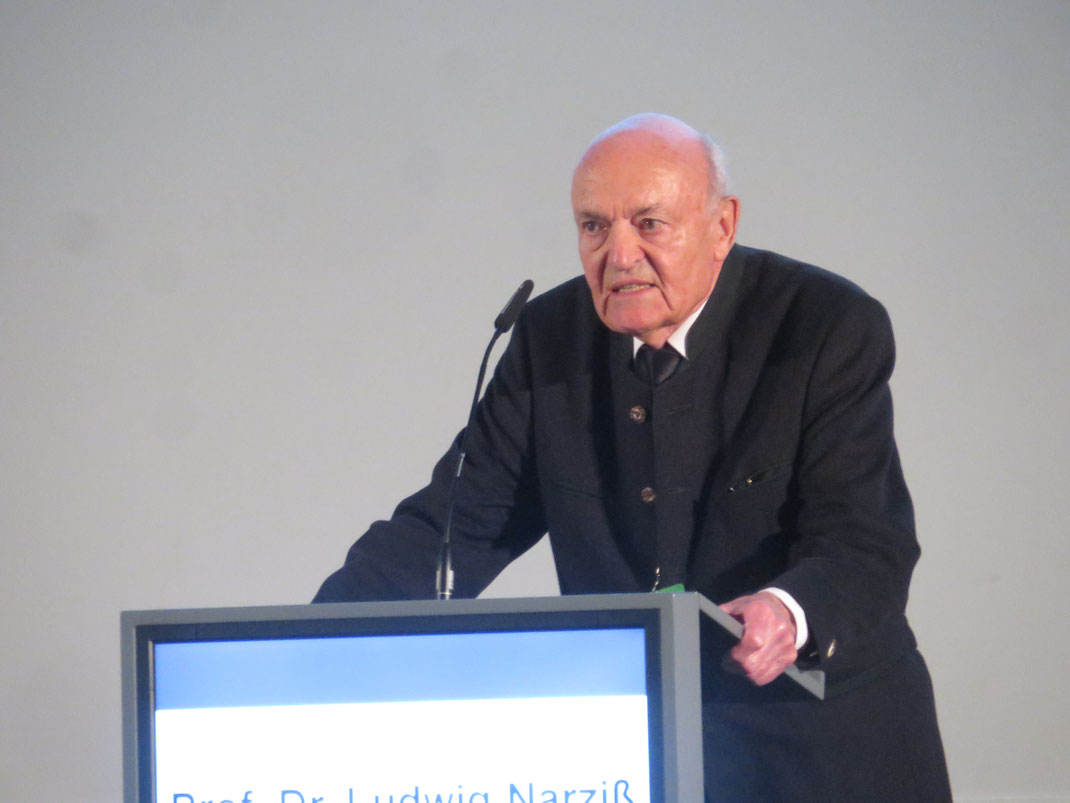 Prof. Dr. Ludwig Narziß – Eröffnungsrede Late Hopping mit Ergebnissen des HopBack Pellet in der Privatbrauerei Hofmühl GmbH in Eichstätt
3. Deutscher Hopfentag in Bad Gögging
Vortrag Friedriche Banke:

Late hopping und Dry hopping
am 12.10.2016